In gone times, people used to introduce themselves over a cup of coffee. Wouldn't it be great if you can do a job interview like that too? Many people don't get the idea of cover letters, it's the same thing excluding coffee and a meet-up. When you meet someone in a person, you observe them better than reading a letter written by them. Because who knows, if the document is entirely truth-based or not. Anyways, since it has become a need today so you have to attach a piece of paper with your resume just so the recruiters can know you a little more and better.
Frequently asked queries about cover letters
There are many FAQs about cover letters and if you genuinely looking for answers to your queries then we'd suggest, you should talk to a professional. Because none can explain it better than a professional. But we can surely tell you the basics of a cover letter. In every formal document you compose, you gotta be careful about it because there are certain dos and don'ts that must be followed. This article is not only a beginner's guide but any grown person can take help from it because one never stops learning.
What is a Cover Letter?
A cover letter is the essence of your resume. And if you want to know the actual definition of it then here it is; a one-page document that you attach with your CV just so it can create an impression. But have you ever wondered, what's the right method of composing a great cover letter for a job? If not then you should know it. You compose a cover letter to introduce yourself to the reader or recruiter. It's a summary of your professional background and growth. Now the deal is that not every time you get the job after sticking a great piece of cover with your curricular vitae. Neither this one page is going to decide your destiny so don't stress yourself.
Is it necessary to keep it lengthy?
No! Who likes to read a long story if it's not a novel? None.  Here's the deal. Many of us did not know that it could be tricky but it is. You don't need to write stories in your cover letter neither you can compose them in just five lines. It has to be a balanced document so the reader won't get bored of it. Once you master the art of précis, you'll conquer this world. And we are not even kidding! 
How to address a cover letter?
Do you know why they say, do your homework? So that you don't lack in anything. Research is your homework while writing a cover letter. Once you get all the information about the company you are applying to, you'll know who is dealing with cover letters and CVs. The right way of addressing any cover letter is the direct way. It should directly be addressed to the person who is recruiting or conducting interviews. A tough job is to find the relevant person. Once you find them, everything gets smooth.
How to end a cover letter?
A very simple rule of ending any letter is to be formal and use terms like your sincerely, thank you, looking forward to hearing from you, thank you for your consideration. There are certain things and terms that you should avoid like because that might create an impression, the recruiter is not looking for. Considering that the letter is official and pretty formal, you should avoid cheesy or friendly terms like:
Take it easy
Take care
Cheers
Best Wishes
Godspeed
Yours in good faith
Warmest regards
Affectionately
Ciao
Fondly
The correct formation
Many people ignore the fact that your formation of a letter or any official document should be easy-to-read and understandable. You don't need to go over the top. Keep the fonts and layout simple. Fancy vocabulary can work in certain articles and blogs so let it be there and don't use it in a cover letter.
Structure
There are no special directives to structure a cover letter. It needs to be good enough to catch the attention of the reader. Many people don't understand it and repeat the same mistake. Let's break it into points so you can easily understand.
Sample Cover Letter for a Job Application
To give you a clear picture of what a cover letter sounds like, we have curated a sample below, backed up by examples. Do have a look!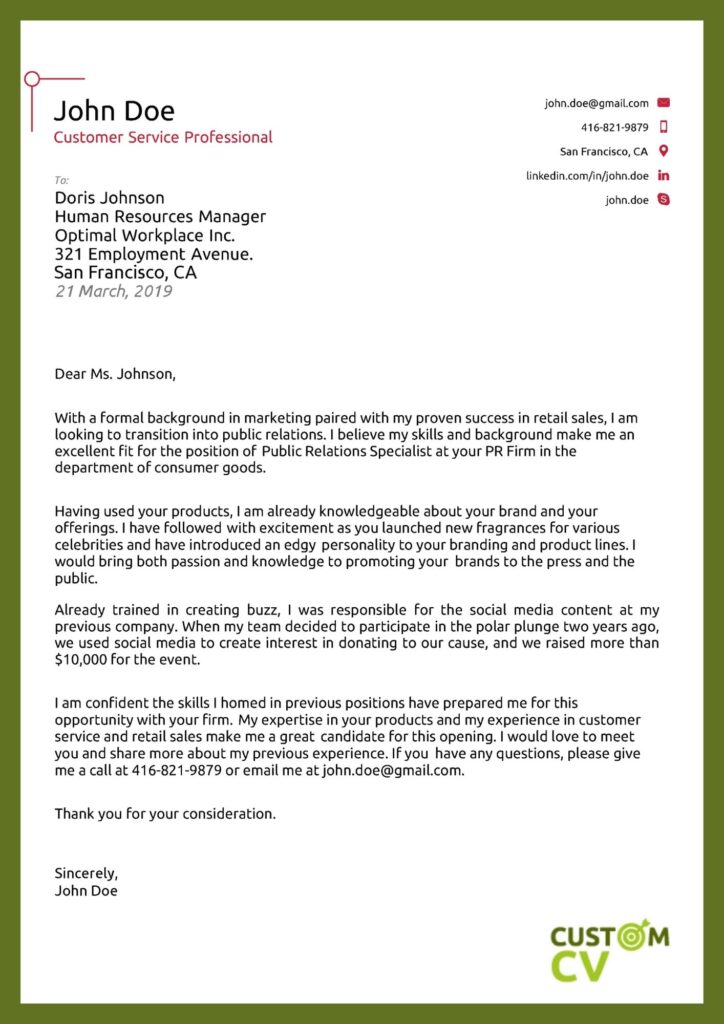 Always start a cover letter with a greeting and let them know what the purpose of approaching them is. The first paragraph is always introductory. You tell them from where you found out about the job. It should be short because no explanation is needed here. Instead, the recruiter would like to know about your interests, past job experience, and achievement.
Example: Hello, there. I came across one of your job advertisements and would like to apply for the position of content writer.
Moving on to another paragraph where you will be discussing, why you should be hired and what qualities you have that make you perfect for the job. This is the perfect time to mention your skills and abilities and if you can take on any challenges. This paragraph needs it. But don't try to be extra efficient.
Example: I have attached my CV along with the letter just so you can check it out thoroughly. As you can see my experience is quite relevant for the job.
Apart from this, you might also like to tell the company, what can you possibly do for the company or would your joining be beneficial for the firm or not. If they are in a need of employees and you think you are perfect for the position then let them know how and why!
Example: With my relevant experience and knowledge I can be beneficial for you.
While ending your cover letter, do mention that you are waiting for them to get back to you. You don't need to stretch it, keep it to the point. Because many people don't get a follow-up email and waste their time waiting for the interview. So it helps.
Example: looking forward to hearing from you, thank you for your consideration.
If you are job hunting currently and need someone who can write a perfect cover letter for you then you should hire our professional cover letter writer. Although you can write it for yourself, a better option would be an expert composer because they know how to do their job to get YOU a job!
Wrap Up
Dip your toes in these simple tips while writing an official document and see what difference it will make. Apart from that, there are many other different types of cover letters such as letters of interest, application cover letters, and email cover letters. And every document is composed differently. Don't lose track. Keep its inflow. Otherwise, you might get exhausted. The last thing to be mindful of is that you better not lie in your CV or a cover. Because if you get the interview, it will become hard for you to remember what did you write in a letter. We hope that this ultimate guide will be helpful for you in the future!